Feb 13, 2015 03:03 PM
This has been one of those weeks where the passage from Sunday won't let me go. We looked at Titus 2:11-15. In this passage, Paul makes a great statement to the churches in Crete. "For the grace of God has appeared, bringing salvation for all people, training us to renounce ungodliness and worldly passions, and to live self-controlled, upright, and godly lives in the present age." (ESV)
The first two statements Paul makes are easy for us to grasp:
• The grace of God appeared in Christ Jesus.
• Through His life, death, and resurrection He brought salvation for all people.
The story doesn't end there, though– we are changed by His grace. His grace is to act in our lives:
• Training us to renounce ungodliness and worldly passions.
• To live self-controlled, upright, and godly lives in this world- right now!
On Sunday, I used the Kingdom New Testament translation. There the translator translates these three words as sober, just, and devout.
This is what I have been grappling with this week– it isn't the particular words that have stood out to me, but the position that Paul is calling the church to live. You see, most of us see being sober as the opposite of being drunk. That is true. But I think Paul is asking us to look deeper.
If you have an addiction of any kind, life is consumed with the next time you get to feed that addiction. Addiction is anything that consumes your thoughts apart from our Lord.
We typically think of addiction as being related to substance abuse. It can be. But addiction can also be related to hobbies, career advancement, shopping, exercise, envy, or retaliation. It can manifest itself in any number of ways. These things consume us and become part of our lives.
All addictions have something in common– they make you take a selfish posture. You are constantly looking inward.
Paul is urging us- 'live sober, just, and devout lives." In other words, assume a posture that is looking outside of yourself. The example of this is found in Christ Himself. The challenge of this passage lies in learning to put ourselves in a self-less posture.
Our challenge is to live as Paul reminds us in Philippians 2, "Do nothing from selfish ambition or conceit, but in humility count others more significant than yourselves. Let each of you look not only to his own interests, but also to the interests of others. Have this mind among yourselves, which is yours in Christ Jesus, who, though he was in the form of God, did not count equality with God a thing to be grasped, but emptied himself, by taking the form of a servant..." (Philippians 2:3-7a ESV)
May God give you the strength to look outside.
Pastor John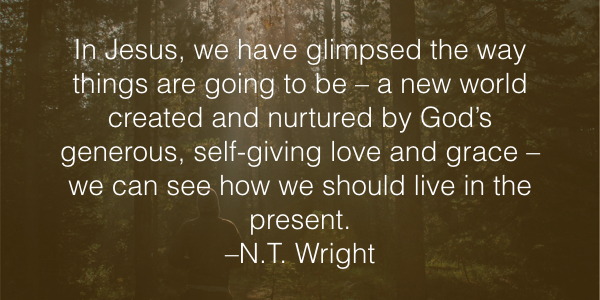 Feb 01, 2015 04:06 PM
I wanted to take a moment and thank everyone that made Alabama North TNT a success this year. It was a busy weekend- and we could not have done it without you.

The end of January means you should have received all of those fun tax statements in your mail box. These various statements report your wages, your giving, and your investments. When those statments show up in our mailbox, it always makes me reflect on how our home invests its finances. I would like to challenge you to think about another way you invest.

Helping out at a youth event is an opportunity to think about our investments as well. Financial investments are important, but eternal investments far outweigh any financial investment you might make. Yesterday morning I was struck by former ALN teens leading us in worship, a five-year-old little girl ministering to us through a beautiful dance, and a high school senior preaching. There was an investment made in the lives of these young people- and I saw Christ in each of them yesterday.

I would venture to say that someone made an eternal investment in you. It might have been your parents, a Sunday school teacher, a youth leader, a pastor, a family member, or a friend. Someone was willing to show you Christ. Now, we are all called to invest our lives in the lives of our children and youth.

These investments are not subject to the whims of a financial market. These investments are eternal- and I pray that we look at our priorities and make sure we are investing our time, energy, love, heart, and life in what really matters- proclaiming Christ!

Grace and peace,

Pastor John