Mar 06, 2015 12:14 PM
I hope you are staying warm on this cold morning. A few weeks ago we wrapped up our series on Titus. Titus is often an overlooked epistle. Once you read it, though, you realize that it is filled with great power and wisdom.
As Paul is wrapping up his letter, he urges Titus to lead his church in the way of the cross. He wraps up by telling Titus, "Insist on these things." What is Titus to insist upon? I'm glad you asked!
We are saved by His kindness and generous love– not by anything we have done.
We are saved through the washing of the new birth and the renewal of the Holy Spirit. This new birth was richly poured out upon us through Jesus, our King and Savior.
We are justified by His grace and made heirs in the hope of the life of the age to come.
Last Sunday, we began our Lenten sermon series with a look at the temptation of Jesus in Luke 4. As I mentioned, there are many sermons to be preached from this passage. Yet, the point that strikes me is this– The temptations of Christ are a question of what shape His ministry/life is going to take. Is Jesus going to follow after His Father, or choose an easier path? It is satan saying, "Just do this and I can make your life easy."
I think satan tempts us all with this question. "Make your life about ________ and all will be easy." My prayer is when we hear that voice, Paul's voice rings louder- "Insist on these things!"
May we insist on what truly matters!
Pastor John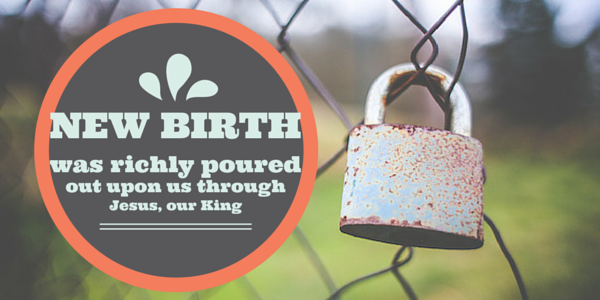 Jan 16, 2015 04:07 PM
Last Sunday morning, I seemed to have hit a nerve. I have had many people reference one of my points all week. We were looking at Titus 1:7, "For an overseer, as God's steward, must be above reproach. He must not be arrogant or quick-tempered or a drunkard or violent or greedy for gain."
I spoke briefly about being arrogant. Then I told a story to illustrate the Greek word
orgeélos
, translated here as quick-tempered. Back during Thanksgiving, Jake was helping me clear some downed trees at Heather's parents' in North Carolina. They had a soaking rain, so we piled up the fire one night before we went inside.
The next morning, I wanted to build the fire back up and let it burn down while we helped Heather's dad more a hay feeder in the field. Jake and I jumped on the four-wheeler and went to the woods to put more wood on the fire. When the fire pit was in sight, Jake saw the fire from the previous day was dead and asked if I brought matches. We arrived at the fire pit and collected kindling to place on the ashes of the 'dead' fire.
I then got Jake down beside me, got on my hands and knees and softly blew across the coals. The ash from the previous day quickly blew off and within ten-seconds, we went from smoke to flames.
This is what Paul is talking about when he uses this Greek word. This anger is an anger that smolders underneath. Then, when the right kindling and a little wind blows, flames erupt.
The quote used at the top of this box is one that I used a month ago. Tullian Tchividjian writes in his book Jesus + Nothing= Everything, "One of the marks of a truly maturing Christian– is that we begin to love the things that God loves, and to want the things that God wants." Another way of saying this is to ask this question, "Are the fruits of the Spirit growing in your life?" Is your life marked more today by love, joy, peace, patience, kindness, goodness, faithfulness, gentleness, and self-control than it was six months ago?
We all get angry. The question is, what is smoldering in your heart? What is burning deep down in your heart? Is it anger, jealousy, impurity, or gossip? Or are you burning with the desire to show love and kindness?
Those fruits are what God wants burning in your heart! I pray that your heart burns with desire to show the love of our Savior to your world.
Grace and peace,
Pastor John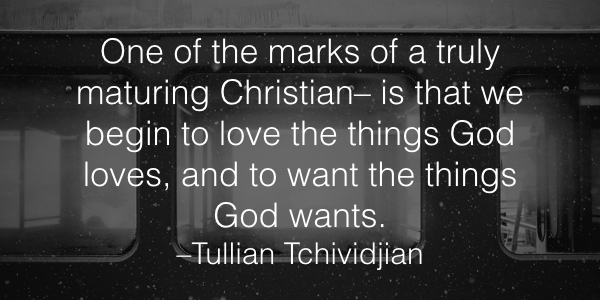 Feb 13, 2015 03:03 PM
This has been one of those weeks where the passage from Sunday won't let me go. We looked at Titus 2:11-15. In this passage, Paul makes a great statement to the churches in Crete. "For the grace of God has appeared, bringing salvation for all people, training us to renounce ungodliness and worldly passions, and to live self-controlled, upright, and godly lives in the present age." (ESV)
The first two statements Paul makes are easy for us to grasp:
• The grace of God appeared in Christ Jesus.
• Through His life, death, and resurrection He brought salvation for all people.
The story doesn't end there, though– we are changed by His grace. His grace is to act in our lives:
• Training us to renounce ungodliness and worldly passions.
• To live self-controlled, upright, and godly lives in this world- right now!
On Sunday, I used the Kingdom New Testament translation. There the translator translates these three words as sober, just, and devout.
This is what I have been grappling with this week– it isn't the particular words that have stood out to me, but the position that Paul is calling the church to live. You see, most of us see being sober as the opposite of being drunk. That is true. But I think Paul is asking us to look deeper.
If you have an addiction of any kind, life is consumed with the next time you get to feed that addiction. Addiction is anything that consumes your thoughts apart from our Lord.
We typically think of addiction as being related to substance abuse. It can be. But addiction can also be related to hobbies, career advancement, shopping, exercise, envy, or retaliation. It can manifest itself in any number of ways. These things consume us and become part of our lives.
All addictions have something in common– they make you take a selfish posture. You are constantly looking inward.
Paul is urging us- 'live sober, just, and devout lives." In other words, assume a posture that is looking outside of yourself. The example of this is found in Christ Himself. The challenge of this passage lies in learning to put ourselves in a self-less posture.
Our challenge is to live as Paul reminds us in Philippians 2, "Do nothing from selfish ambition or conceit, but in humility count others more significant than yourselves. Let each of you look not only to his own interests, but also to the interests of others. Have this mind among yourselves, which is yours in Christ Jesus, who, though he was in the form of God, did not count equality with God a thing to be grasped, but emptied himself, by taking the form of a servant..." (Philippians 2:3-7a ESV)
May God give you the strength to look outside.
Pastor John